Features | Instant Stats | Endline View | Sideline View | Opponent Stats | Score Sheets | Charts | Rating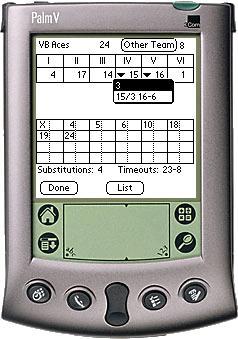 Score sheets are automatically
generated by Volleyball Ace
while it keeps accurate score.
Volleyball ACE also tracks substitutions and timeouts, and will warn you of illegal substitutions.
In case there is a discrepancy
between the scorekeeper's score
and the score recorded by Volleyball
Ace, click on the List button to display
the entire sequence of rallies during
the course of the game.
Please be graceful when discussing the score and remember that the scorekeeper's record is the official
score.